The Palais des Congrès was inaugurated on 28 February 1974 and welcomes many cultural events, congresses and exhibitions. It is pretty simple to buy a ticket to assist an event or register to a congress but sometimes, it can be complicated to book a room… Here is an overview of the available hotels with a description to help you to make the best choice.
The market is shared between 2 major hotels.
If a conference delegate is participating to a congress at Porte Maillot Palais des Congrès, he will probably decide to stay in one of the two hotels onsite: the Hyatt Regency or the Méridien Etoile.
The Porte Maillot hotel market is shared between these 2 major hotels, recently renovated. For example, during a world congress, as it was the case for a national congress, the urology congress (CFU), reservations in those 2 hotels represented 75% of total reservations (calculation made from effective sales data, by C'accommodation, the official agency for CFU congress during the peak night of the congress, on 21 ST November 2019).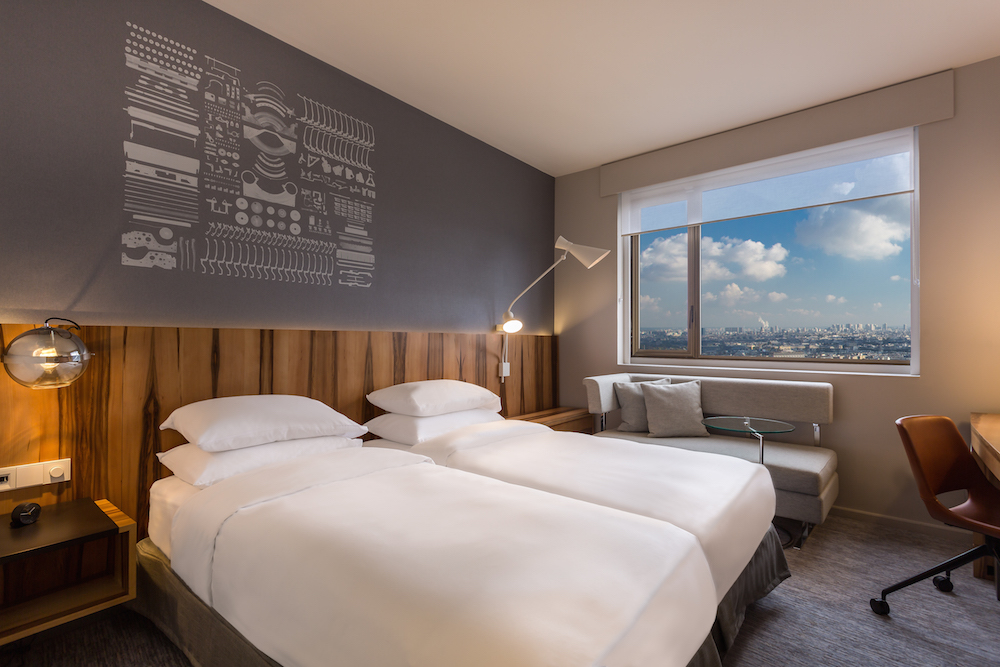 The Hyatt Regency Paris Etoile ****
This is an emblematic hotel with a spectacular view on Paris, which counts 950 rooms and 34 floors. An important renovation project has just finished at the end of 2018.
The Hyatt Regency offers a direct access to the Palais des Congrès. This give the opportunity to conference delegates to access the congress, the Palais' shopping center, the cinema and the restaurants. The metro station is also accessible from the Palais des Congrès directly without going outside.

The hotel also offers 11 meeting rooms which can allocate from 2 to 2800 people and where you can organize any type of meeting or event.
This hotel is situated just in front of the Palais des Congrès. It's the biggest hotel in Paris with more than 1000 rooms (1025 rooms with Suites included). All the rooms have been renovated after 7 working years. The renovation ended late 2017.
The Méridien Etoile developed a partnership with the Palais de Tokyo. By booking a room at Méridien Etoile, the client receives a free entrance to the museum. A good way to combine work and culture.

Many other hotels in the neighborhood that you don't want to miss.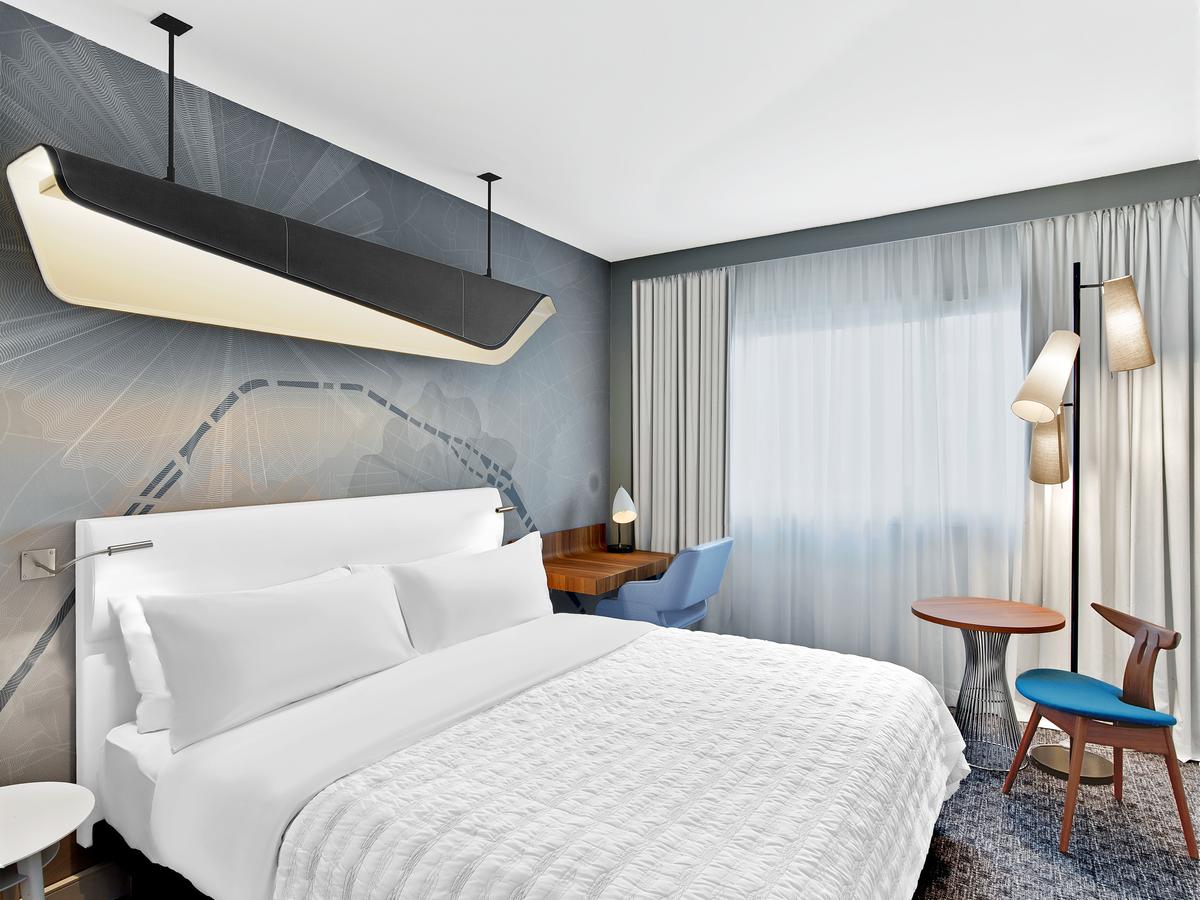 2 other hotels with a capacity of more than 100 rooms are at walking distance from the Palais des Congrès:
AC Hotel Paris Porte Maillot ****
This hotel is 7-minute walk from the Palais des Congrès (600 m), just behind the Paris ring-road and counts 164 rooms. Rooms on the highway side have a quadruple-glazed window, to provide you a good sleep. Even if there is no comparison with the 2 first hotels described, the AC Marriott Porte Maillot attracts a lot of little groups during the congresses through its new and fresh rooms.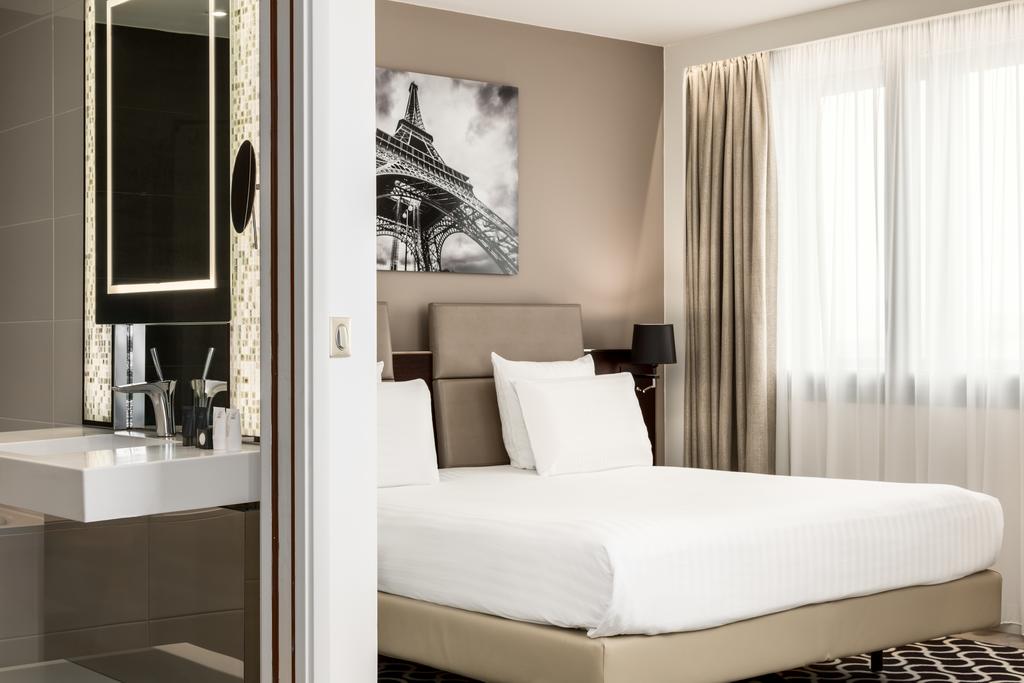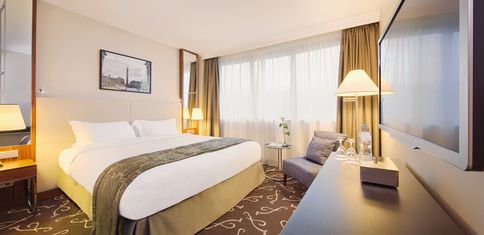 Crowne Plaza Paris Neuilly (ex Movenpick Paris Neuilly) ****
The ex Movenpick just switched under the direction of the IHG group and became Crowne Plaza Paris Neuilly in March 2016. It is also walking distance from the Palais des Congrès or accessible by bus (1.3 km).
This hotel counts 281 rooms and Suites. The rooms situated on the 7 th floor have a panoramic view on the Eiffel Tower and the Sacré Coeur. The 20 adaptable meeting rooms, most of them with day light, can receive up to 400 persons. This hotel is a good alternative for big groups or if the closest hotels are already fully booked.
Smaller 4* hotels within walking distance from the Palais des Congrès
There are also many small hotels within walking distance from the Palais des Congrès, used to accommodate conference delegates, with which we regularly work and negotiate congress rates, breakfast included.
Please find our partner hotels selection:

– La Villa Maillot (5–minute walk),
– L'Etoile Saint – Ferdinand (6-minute walk),
– Les Jardins de la Villa (6-minute walk),
– La villa des Ternes (6–minute walk),
– Le Balmoral (14–minute walk) …
And of course, for all budgets, 3* and 2* hotels
In this hotel category, you can find:
– Le Fertel Maillot *** (3-minute walk),
– La Résidence Impériale*** (4-minute walk),
– La Villa Brunel*** (6-minute walk),
– Le Fertel Etoile*** (8-minute walk),
– Le Marmotel** (8-minute walk),
– Le Neuilly Park *** (11-minute walk),
– Le Best Western Star Champs Elysées *** (13-minute walk)
– Le Magellan*** (freshly renovated) (14-minute walk)
– L'étoile Pereire*** (14-minute walk)
Porte maillot is convenient, but what about the other areas?
Other quarters also attract many delegates. They can decide to stay in other quarters by choice or by default (nearest hotels at the Palais des Congrès are often fully booked during international congresses).

La Défense : This is the first European business quarter compare to its offices offer. La defense offers more than 3700 hotel rooms (3, 4 and 5*). This quarter is easily accessible from Porte Maillot using the direct metro line 1 (3 metro stations). We have partnerships with a lot of hotels, as for example, the Accor hotels, Méliá La Défense, Renaissance La Défense or Hilton Paris La Défense.

Le quartier Arc de Triomphe/Champs Elysées :Accessible by bus or by metro with direct line but also accessible by walk (15-25 minutes).
Hotels as Warwick Champs Elysées, Mercure Arc de Triomphe, Le Marianne, le Cécilia, le Tivoli, le Tilsitt, usually welcome business travelers who make the choice to stay away from the Porte Maillot. This way, they can easily enjoy this animated neighborhood during their free time.

Montmartre : It is an authentic charming area, famous for its Sacré-Coeur Basilique and its beautiful view on Paris. Here stay the delegates who want to feel the "real Paris", far from the tumult of the congress. This quarter is accessible within 25 minutes by metro (1 change). There, you can find chain hotels as Mercure Paris Montmartre Sacré Coeur**** or Ibis
Montmartre 18ème***, but also many smaller independent hotels.
A large choice of hotels that we invite you to discover during your Parisian visits!


Hélène Desmazières – Congress Accommodation Supervisor chez C'accommodation (Colloquium)