Colloquium Numbr is a free software that allow event manager to draw up a budget and to share it with client or partners. To make it real, the event manager can also manage all its purchase process (RFP, Quotation, Invoices, Payment) on line : all administrative tasks are simplify. You can't find something similar on the market, it's a major innovation!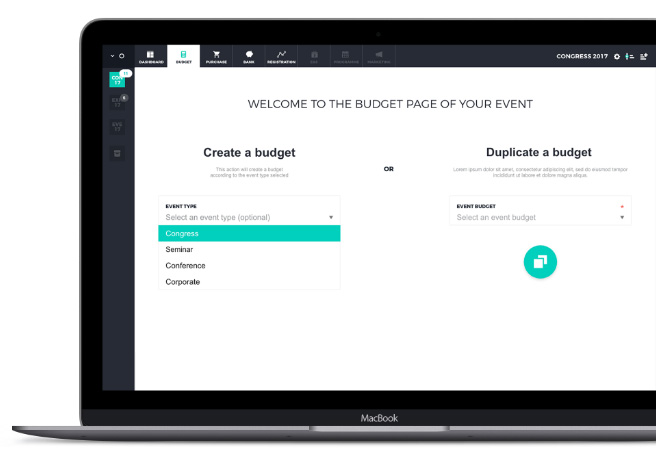 Corporate, Associations, Event company or even free lance : all event manager are concerned : they all need to fit the budget and to have a real time access to detailled informations.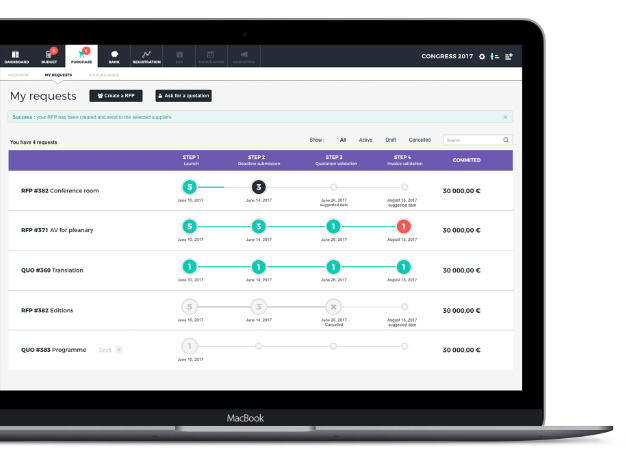 Get your budget under control
"Reviewing budget on a regular basis is a key tool in managing an event… but it's time consuming. From budget creation to closing process, Colloquium Numbr will assist you in managing each step of your budget." Elvire de Chalus, general director
Select a budget template (preloaded or customized) and just start to manage your budget following Colloquium Numbr advice.
At any time, Colloquium Numbr will calculate for you an accurate evaluation of your income and expenses in order to help you make good decision
"Purchasing activities is an important part of the event manager job and we know that you can save 10% to 20 % of your event expenses by leading formal request for proposal (RFP) for your main contratcs… but it's time consuming." Nadia Taleb, congress project manager
Colloquium Numbr will assist you in selecting suppliers, specifing your needs and analysing their proposals. Once you have made your decision, just validate the offer and Colloquium Numbr will automatically update you budget.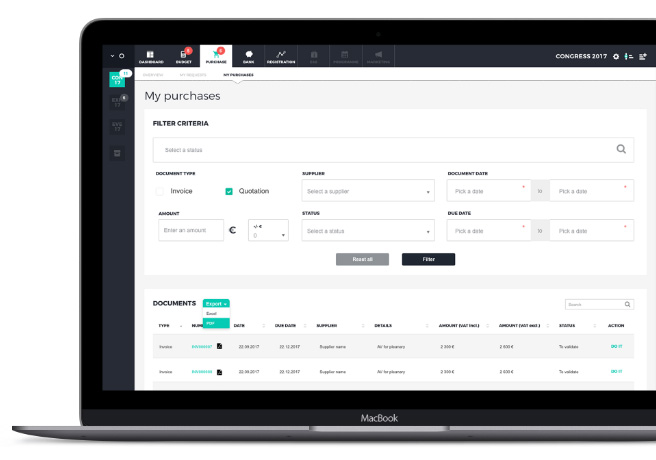 Save time on your cash management
An event is like a small business, where you need to manage a lot of accounting tasks like payment issues or bank account reconciliations… and this is clearly not the most fulfilling part of your job. Is it?
All your invoices are issued and saved in the system. As soon as you validated the invoice, a debit is issued on your bank account and the payment is automatically sent to the supplier. All invoices are linked to budget lines, it's the best audit track you can ever find. On the same time, all accounting entries relating to your event budget are downloadable at a universal format.
Track your live data and decide
Collecting and analyzing your event data is the best way to make accurate decisions. But it's boring and time consuming (again)! Colloquium Numbr mixes the superpowers of big data, good design and experience to provide you a clear overview of your event at any time.
Thanks to APIs*, Colloquium Numbr is able to collect and aggregate all data from your different applications (like your registration system) and connect it with your budget. We combine big data with our long experience of events to deliver predictive analysis and recurring schemas in event management.
* Application Programming Interfaces are sets of requirements that govern how one application can talk to another.
Colloquium Numbr generates top-qualified leads for event suppliers. Suppliers who register on Colloquium Numbr receive qualified requests directly from event managers using our budget management platform. And good news, it's free! Colloquium Numbr is much more than a marketplace. We are selling much more than clicks. We build strong relationship and high customer loyalty with event managers.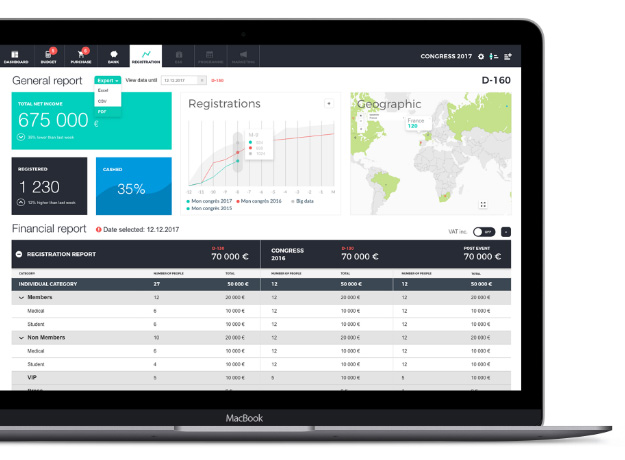 Receive requests from happy event managers
Requests are opened to maximum 5 suppliers. A guarantee for you to optimize your chance.
Build your proposal and get feedback
When a user choose a supplier, he has to tick the criteria he used to make his choice and he can write a short comment.
Responses are send to each interviewed supplier at the same time.
Exchange with the request senders in a dedicated chat
All information about the RFP are stored at the same place. Less emails = time saved
Issue your invoice in Colloquium Numbr
No need to re-enter information into your finance system. All accounting entries are downloadable on a universal format. Time is money.
No need to re-enter information into your finance system. All accounting entries are downloadable on a universal format. Time is money.
We guarantee a payment within 1 week after client invoice approval. Wire transfers are issued automatically.
If you want to know more contact the Team Numbr: welcome@numbr.events